What is coaching?
The International Coaching Federation (ICF) defines coaching as partnering in a thought-provoking and creative process that inspires a person to maximize their personal and professional potential. Coaching unlocks hidden potential and opens up many new possibilities for growth and change. Our panel of coaches come with deep industry and leadership experience and adheres to global standards and ethics in coaching. We help Executives, Leaders, Entrepreneurs, Teams and Groups work on their goals and challenges in order to achieve success.
Individual Coaching
Leadership Coaching for high performance, driving business results, strategic thinking, self-awareness, interpersonal effectiveness, productivity, influence and impact Career Coaching for identifying strengths and working on obstacles to prepare for next-level growth with confidence. Life Coaching helps program your life for outer success and inner fulfilment. Create happier relationships, experience more harmony, and balance, build resilience against stressors and improve overall well-being. Gain clarity and work through challenges in your life.
We offer one complimentary chemistry session to ascertain mutual comfort and build rapport between coach and coachee.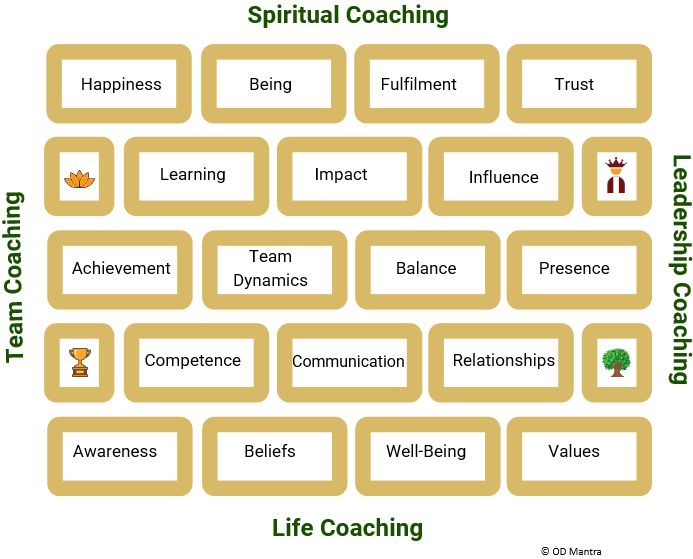 Group Coaching
A group of individuals with common development needs are coached together based on commonly identified needs for growth. This enables collective learning, fuels group motivation, and builds internal networks and collaboration in addition to individual development.
For example, we worked with a group of leaders with a common set of development needs. In another group, we worked with women leaders wanting to balance the pressures of their professional and personal lives. This modality is a cost and time-efficient way to make coaching accessible to more people.
Team Coaching
A team is a set of people working together towards a common goal with interdependencies. While teams are central to organisational performance, significant energy could be lost due to unproductive dynamics.
We help teams achieve ambitious business goals, collaborate better, learn and evolve continuously and engage deeply with clients or stakeholders. Become a high-functioning team through times of change and hybrid working.